It's a slow Sunday afternoon, and you've just booted up an old Castlevania to walk around the halls of a completed save file to see if there might still be some secret you missed back in the 90's. But why is Dracula's castle comprised of so many dead ends with absolutely nothing in them, so many huge rooms with no contents whatsoever? You don't remember it this way. Wasn't this a game where every room was carefully designed and mattered?

Well, perhaps it was once. But so many of that world's most important landmarks were simply consumed over the course of gameplay; bosses were defeated, secret pickups and crucial upgrades alike were taken from their resting places and all that remains is the empty chambers they used to occupy. Today I wanted to talk about monuments; how they help commemorate important events and ease navigation, and what can happen if you subvert the trope.

TROPE: MONUMENT. Whenever something disappears from the game world forever (a powerup, a boss, an obstacle or door), a mark of some kind is left at that spot to serve as a reminder to keep the room from becoming an empty, confusing space.

Landmarks are one of the core concepts in human navigation, and I will cover how we use those in greater depth in a future post. Long story short; a space is much easier to make a mental map of when there are distinct spots of greater salience than its surroundings, hotspots on which to hang the rest of the map (traditionally squares or churches when learning to navigate towns and cities). The most effective landmarks don't only have a distinctive look, but become even harder to shake from memory by carrying a specific function (such as a well, a marketplace – or a save point!).

Essentially, some of the strongest potential landmarks are places where things happen. This was understood early on in the Metroid series.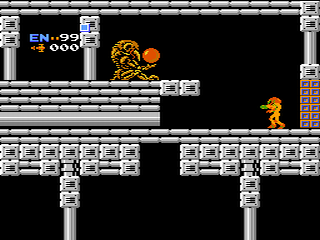 In the original Metroid, upgrade discoveries are the most important type of turning points the narrative has to offer. In a stroke of genius, each of these upgrades that allow you to access new areas is presented by a Chozo statue which will remain in the room forever as an eternal reminder of the event, becoming planet Zebes' most important landmarks. This was crucial in a game with no map feature and a lot of rooms that look more or less identical – all in all a pretty cumbersome space to wrap your mind around – at least when you stumble upon an old Chozo statue, you're more likely than not to have memories flooding back to you from the powerful moment of the upgrade acquisition, which in turn gives you a much stronger idea of what other rooms you can expect to find in your immediate surroundings. You start to think of areas in terms of "where I got the morph ball" or "the area with the long beam". The Chozo statues are a great way to capitalize on the strongest emotional moments in Metroid and turn them into landmarks for navigation.

The monument tradition has mostly been kept by the Metroid series since then, and when the map system debuted in Super Metroid the designers also took care to make notes on the map of where even smaller pickups had been collected, making it much easier for returning explorers to tell the difference between a room that's mysteriously empty (and probably hiding something), and a room that has just been emptied by the player. Meanwhile other series have generally been less interested in this trope, often letting important moments float away without leaving any mark on the map or environment, leading both to potential spatial confusion and missed opportunities to create both landmarks and powerful, nostalgic spaces.

Of course, there is also a case for this as an artistic choice, when designed carefully. Designing exploration gameplay is always a balancing act where navigation needs to be manageable but not too easy either. If your game world is exceptionally small for example, or otherwise already very easy to navigate, monuments may be a needless hand-holding, and letting players find their own way around unguided may lead them to a stronger, more personal experience.

And even in more complex environments, sometimes omitting a monument can be a powerful piece of show-don't-tell. In a game that generally takes care to leave monuments, how would the player feel if the strongest emotional payoff in the game, say, a central character death, would take place and then not leave any monument whatsoever? Would that not supplement the feeling of emptiness? More importantly – if we as designers are confident that we have created something unforgettable, wouldn't that be just the time to trust the player to keep that place in their hearts forever without help? Sometimes, the lack of a landmark can be the strongest landmark of all.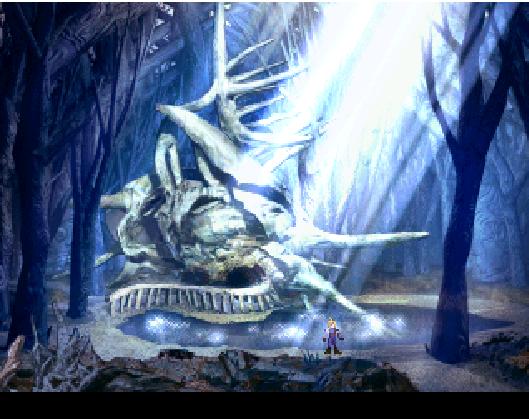 Of course, you could go further than Final Fantasy 7. What if this event had happened in a room without a giant seashell tombstone bathing in celestial light – just another forest glade, one of many, leaving it to the players' dedication to defy the confusing map design in their effort to always remember where it went down? While at odds with Final Fantasy's in-your-face aesthetic, I for one might only have recalled it even more strongly.