I don't want to give the impression that this blog is all about analysing classic Metroidvania maps and players' routes through them – it's mainly supposed to be about tropes in exploration gameplay and how they can be used artistically – but it's just that these are so damn fun to do and I haven't written anything in a while. Before I've written mostly about Super Metroid, so it seems fair to do a quick dive into the second half of the subgenre's name.

I tend to come off as a bit critical of Symphony of the Night. While Super Metroid's design seems near-flawless even today, Castlevania has a tendency to treat its players unfairly and leave them lost in deep dungeons, pit them against enemies far beyond their own power level, or leave them without clues in an ever-increasing problem domain. I'll go through some of these flaws in this analysis, but first I must acknowledge that the overall aesthetic of Castlevania is quite different from Metroid's. The planets you explore in Metroid are always hostile, but never menacing. Castlevania's less thoughtful design does capture the feeling of being trapped in a living, breathing labyrinth filled with unthinkable treasures and beasts from every mythology; that atmosphere can certainly be amplified by a sense of being lost and not knowing the way forward. Symphony of the Night is much less methodolical in its progression than Super Metroid, which is often frustrating but also kind of fitting.

Time to get started. For such a large game I was surprised to count the number of locks and keys in Symphony of the Night. There are a total of seven upgrades required to make it through the game, and only four to get the bad ending. One of the main reasons for this is that the game lets you play through a 1-2 hour linear corridor before offering the first key. Here is the area accessible directly from the start of the game: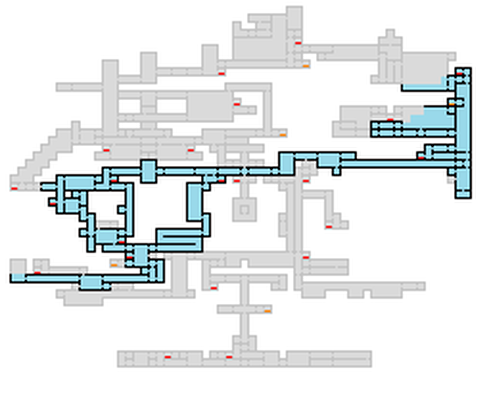 So we start off with a strictly linear trek through half of the castle's major areas (Entrance, Alchemy Lab, Marble Gallery, Outer Wall and Long Library), with very few sidetracks and secrets – the biggest two being simple loopbacks leading to earlier points on the path. In terms of easing players' mental mapping, there's absolutely a case for leading the player on a long path before branching out. In fact science has proven that humans have an easier time learning cities' layouts if they have first memorized a clear linear path through it, and that's likely one of the reasons why Symphony of the Night has such a memorable castle layout. It can be a bit awkward to wait so long for the actual exploration gameplay ("Where should I use this new ability?") to kick in though, and we shall soon see that it builds a dangerously large problem domain.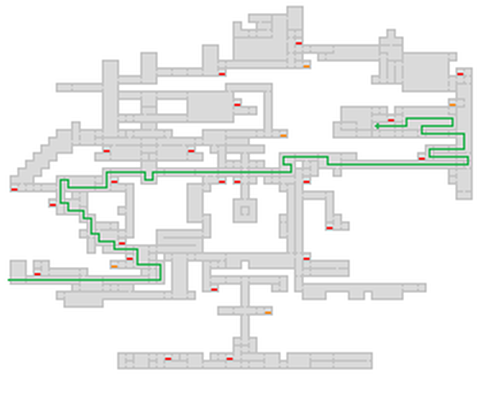 Above: The straight path from the beginning to the first key: The Jewel of Open