PAST PROJECTS

FE (2015-2018)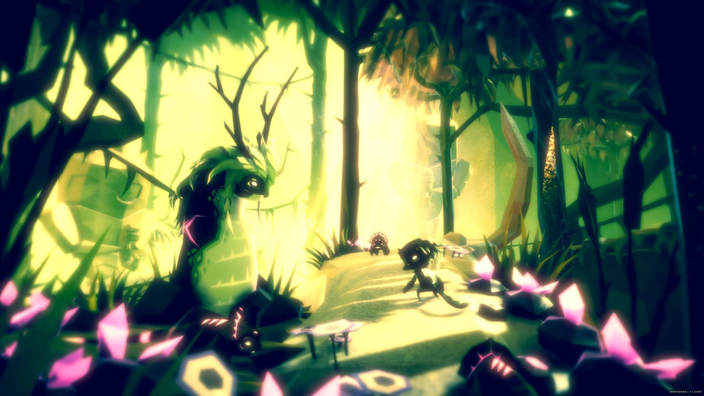 GAME. Where to start with this one? I was given the opportunity to preside over this budding masterpiece as producer and creative director - a chance to realize my own creation with all the resources Zoink had to offer. After the first nine months of development we pitched our script and demo to Electronic Arts and found ourselves as the figurehead of the EA Originals label. The increased resources and stakes meant more creative directors coming onto the project, but I remained its sole producer on the dev side and stayed on to see the project through. Fe was released to reviews ranging from mixed to absolutely lyrical, on Febuary 16 2018 which was also my last day at Zoink before leaving to find my own path once again.

---

ZOMBIE VIKINGS (2014-2015)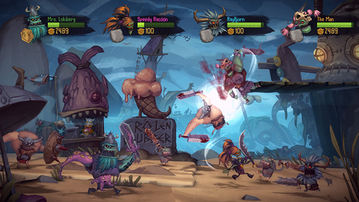 GAME. Following the success of Stick It to The Man, the Zoink team set their sights on a more action-oriented approach to the wacky humor the company had become known for. Boasting a massive co-op brawling campaign marrying online multiplayer and hours of dialogue, this is probably still the biggest, most complex game I've produced. As always I also did a fair bit of programming and design.


---

THE 7D MINE TRAIN (2014)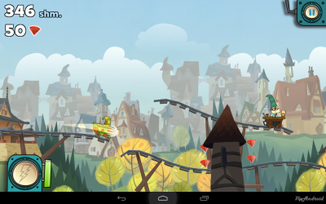 GAME. Heading a small Zoink team, I produced and programmed this iOS/Android endless platformer based on Disney's latest IP.

---

RESIDUE (2009-2014)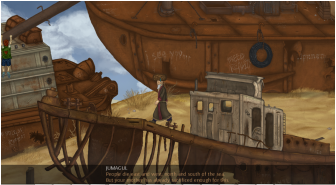 GAME. A story-driven platform adventure set in the remains of the real-world Aral Sea.
Residue
started as a university storytelling experiment and quickly evolved into a huge indie project, developed over five years with a team of 15 designers, programmers, graphical artists, sound artists and voice actors. After four separate cycles of development the game was finally
released on Desura
in 2013. An improved version was
released on Steam
in 2014, and we decided to call it Final Cut. I think we can finally move on!
TEASER
TRAILER
"It's a gorgeous, bizarre and uniquely human tale of death and redemption – one that I wish would just fucking control better."
Jared Rosen, Indiestatik
---

BESTEN (THE BEAST) (2014)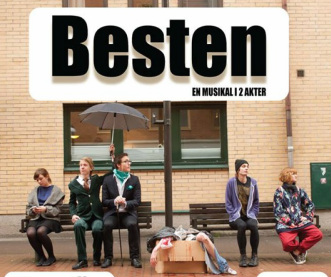 THEATER. I became a fan of this economy-centered musical when I first heard the brilliant songwriter/economist Jens Boberg had started writing it five years prior. When my chance appeared to be a part of the final product, I jumped at it! First as associate producer, but additionally I quickly found myself playing the role of Gunnarsson, the anxious social glue of the ruthless trio of entrepreneurs that get to represent the upper class in this terrifically poignant metaphor for poverty, inequality, power abuse and apathy, and the insatiable Beast we all exist to feed.

We performed the 15-song, 3-hour epic four times early in the summer of 2014, but the Beast will go far and I shall cling to this train for as long as my arms last.


I actually reprised my Gunnarsson role in an otherwise whole new ensemble performing a much-improved version of the script at Folkteatern in Gothenburg in the fall of 2016.

---
STADEN JAG DRÖMMER (2013-2014)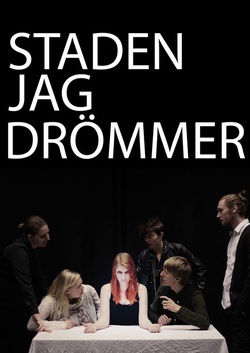 ACTING. During 2013 I have had the privilege of being accepted into the most amazing theater group I ever could have dreamed of. Apparaten is committed to delivering high-class artful and experimental performances with a strong social pathos. The play in which I appear is called Staden Jag Drömmer (The City I Dream) and is largely a compelling (and revolting!) feminist meta-discussion in which the audience's own gender bias is made visible. I love getting to work with some serious social issues for once, and this year I have finally found a balance between professional full-time game development by day and passionate theater work by night. I could go on like this forever.

We gave 8 performances in February-March of 2014. The group is largely shattered across the Nordics, but writer-director Isabel Evers is still at large and ready for more mischief.

---

STICK IT TO THE MAN (2012-2013)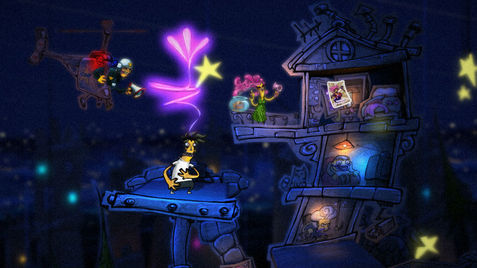 GAME. Finally released after years of planning, Klaus Lyngeled's masterpiece about an ordinary guy given mind reading powers in an insane world has been met with raving reviews and I am very proud to have acted as its producer. Apart from keeping development on track during the game's 10-month production and post-production, I have programmed many systems including most sound and dialog code, and cast and coordinated our amazing voice actors.



Stick It was released on PlayStation3, PS Vita, PC/Mac (Steam), WiiU, PlayStation4 and Xbox One.
---

PLAYSTATION ALL-STARS ISLAND (2013)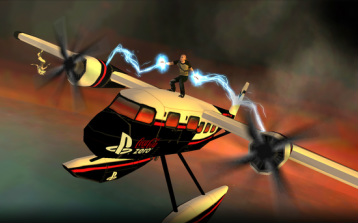 GAME. The first Zoink project I got to follow from beginning to end as producer was this special collection of PlayStation-themed mini-games on iOS and Android, based on Uncharted, Infamous, LittleBigPlanet och Gravity Rush. Working closely with Sony Computer Entertainment and sponsor Coca-Cola I held the myriad loose ends that come with a project of this magnitude, until all games were released and pictured on every single Coke Zero container in a dozen European countries. An unreal experience!
---

ADVENTURE TIME: ROCK BANDITS (2012)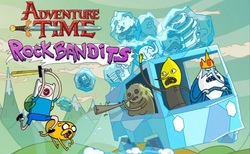 GAME. I came on board at Zoink in the fall of 2012 as a gameplay programmer and enemy / boss designer on this just-started Cartoon Network project. My first experience as a professional programmer, this project gave fellow code monkeys Patrik Häggblad and Rasmus Jarl a chance to show me the ropes. Once all levels were produced I took over as producer until the game was released on the US AppStore in early 2013.





---
MAGNETISM (2012)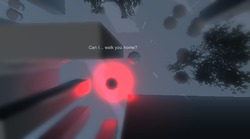 GAME. In the spring of 2012 I tried to get my feelings for a friend in order by prototyping a game about them. After featuring it in a number of live talks about things like conveying complex meaning through interactive systems, feedback from audiences convinced me that I have to finish the game and share my experience. The development is currently shelved as it has proven difficult to get my point across without myself being present and explaining the finer points, but I still keep it around as a tool for discussion about systems as metaphor.
---
OVELIA: THE WAKE (2011-2012)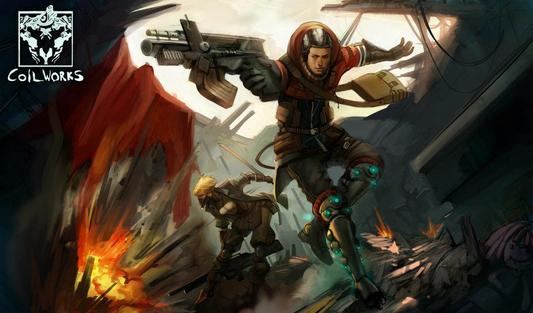 VOICE DIRECTING. A sister studio of the Working Parts, called Coilworks, commisioned me to cast and direct their voice actors for their upcoming post-apocalyptic franchise. This was my first time directing in English, as I worked with two terrific upcoming actors from the Americas; Karen Hayman and Xander Mobus.
The game was later simplified and turned into
Cloudbuilt
. Karen stayed on to voice the new protagonist.
---
EYES (2012)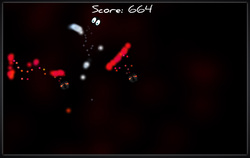 GAME. Created specifically for Unity's "Flash in a Flash" contest, this second release of the Working Parts went from conception to completion in seven days - unless you count the ancient history. Eyes first appeared to me as a one-week prototype school assignment in 2009. By abstracting the idea of vision to work as slow-moving projectiles, I was able to give the player enough warning to make this simple stealth game a bit more fair than its genre siblings. Its minimalist style also looks slick in motion, and tantalizes the imagination. What is it
really
about? The recently added Stalker Mode doesn't make it any less creepy.
What also makes me proud of Eyes is that, with the exception of some Flash Implementation help from Ulf Hartelius, I've designed and coded everything in the game by myself. And, (albeit mostly because of the Unity Engine and the game's humble size), it's the most polished thing we've made.
Eyes is playable in your web browser
right here
.
---
THEY BREATHE (remake, 2011)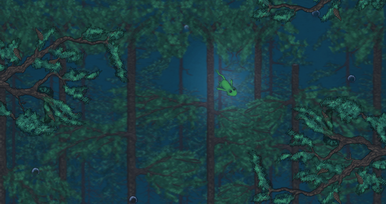 GAME. The design from my first school project possessed a potential which has teased the Working Parts for a while, and finally we decided to take the game to the end of the line. Targeted for Windows and Xbox Live Indie Games, the new
They Breathe
aims to provide all the answers that were so brutally cut from the original version, while greatly improving upon the gameplay and the potent atmosphere of our underwater forest. The end result is an unpredictable mystery tale from the natural world, where nothing is quite the way it seems and very strange things indeed lurk beneath the colorful surface.
"They Breathe is proof that you don't need realistic graphics or complicated gameplay to tell a horrifying story."
/Nick Vannucci, Kotaku
They Breathe is available now on Xbox Live Indie Games and on
Steam
.
---
IMAGE OF THE GAME WORLD (2011)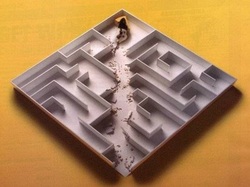 SCIENCE. My bachelor's thesis, conducted during the spring of 2011, utilizes findings on the human spatial systems, more specifically how we form mental maps, to make better world design for exploration games and Adventure-likes. I'm not sure if it will revolutionize science, but it has acquainted me to the writings of Kevin Lynch, made me think about the makings of a compelling world, given me an opportunity to study why scores of people get lost in the same places, and to finally realize that just because I get frustrated when that happens, that doesn't mean that my tester does. So basically, I can conduct tests now.
The thesis can be read (in Swedish)
here
.
---
THE INVISIBLE HAND OF SUPER METROID (2010-2011)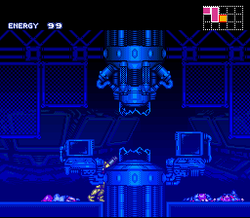 ANALYSIS. I suppose it would be unfair not to call this darling a project. I am finally done with my walkthrough detailing the finer points of this ancient level design. That's not saying I might not clean things up or add chapters, but it's there. More specifically,
here
. Also making the rounds at
Gamasutra
.
"Best article I've read in a long time. Should be required reading for all designers and level designers out there from now on."
/Robert Boyd of Zeboid Games
---

GAME MAKER EXPERIMENTATION (2010)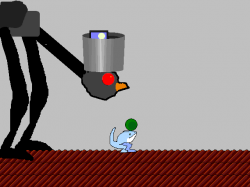 GAME. I have been experimenting with simple 2D game mechanics for a long time, but during the summer of 2010 (on my time off from Residue) I did so in a slightly more organized fashion. I developed four conceptual games, several of which may yet turn into full-fledged titles. I like to experiment with new technology, and it teaches me a lot about programming and scripting as I continually push myself to make things I didn't think I could. I have also been trying to develop some kind of expertise on platform adventures. I seem to have realized that for me, the environment will always be the ultimate obstacle.

---

DESIGNVERKSTADEN (2008-2011)
EDUCATION. In the first weeks of my game school program, I helped found a society for design workshops and practical exercises to complement our highly theoretical education at the University of Skövde. I've arranged many of our practical exercises and even held a few talks on such topics as writing, level design and assorted project experience. It's been quite a trip, which has put me in touch with many a talented game designer and taught me lots. During my last year at the university, we reorganized to bring more structure and predictability to the workshops, and for the first time I had something resembling a formal responsibility for our activities, along with Claes Eriksson and Johannes Smidelöv. The society is still going strong after I left for Gothenburg to focus on my final thesis in the spring of 2011, and I try to attend whenever I have a monday night to spare.



THEY BREATHE (2009)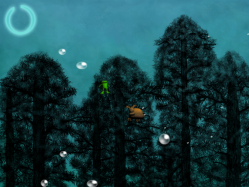 GAME. My first game project at school was based entirely around a quite clever plot twist from which a unique world and a fun set of game mechanics were spun. In They Breathe you play as a frog whose native forest has been flooded to the treetops and overrun with murderous moose. On your way to the bottom of the forest you need to preserve oxygen by intercepting air bubbles, while luring the moose away from said bubbles to make them drown. A unique production which called for unique solutions, it has since been remade and released by the Working Parts.

---

VIKTORIA STREET (2009)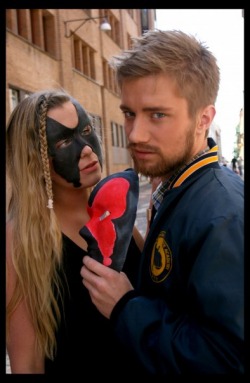 THEATER. The second major project of Teater Tentakel, Viktoria Street propelled us into the unknown realm of musicals. The story was based on the concept album Metamorphosis by John Sundell, around which I wrote a psychological love story featuring four characters and seven scenes, separated by John's songs. I based the story on the theme of the changing nature of love already inherent in Metamorphosis, using the band performing the songs as a metaphor for all the people who had influenced the protagonist, Simon.

Because of the rapidly approaching They Breathe university project, I was forced to do all the actual writing in five days. I left the project in the Tentacles able hands to go make games instead. But after two months I was called out of my retirement to support the group again - as producer for Viktoria Street. And so I stuck with the project until the end, striking deals with theatres and keeping things afloat until our explosive premiere at The Kids Are Alright festival in Borås, during which I had the dubious pleasure of serving my actors emergency tofu cake with raspberries. But that is a story for another time.
---

A WIKIPED'S STORY (2009)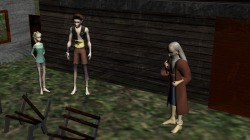 GAME. I had the privilege to be invited into the development of this 3D co-op point-and-click which at the time of my entry into the project already boasted 3D graphics, fully voiced dialogue, a unique point-and-drag movement system, support for two mice and an impressive time rewind feature. I worked on the level design for a while, but spent most of my time in charge of rerecording all of the game's voiceover using my old actor contacts from Teater Tentakel. The game itself was sadly put on ice in the summer of 2009, and remains there to this day.



---
ASSORTED VOICE ACTING (2009 - forever)
ACTING. Outside the projects I have directed or produced myself, I never pass up on the opportunity to do voices for some of the things developed by friends and colleagues. In recent years, I've portrayed a slavic-jamaican "troubadourin' hobo" (A Wikiped's Story), a regal colonel speaking in front of his "brothers and sisters in arms" (Project Mecro), the make-believe travel agent Mr Lies - and another homeless person (Angels in America - Under Ozonlagret), the voice of Edgar Allan Poe himself, reading his "Dream Within a Dream" (Scensommarspel), and a flustered psychiatrist trying to get the bottom of a young subject's lies (Pants on Fire).

In 2013 I did several voices in Zoink's Stick It To The Man, the centerpiece being the warm-hearted but probably psychopathic psychic alien Ted.

DIT SPÅREN GÅR (2006-2008)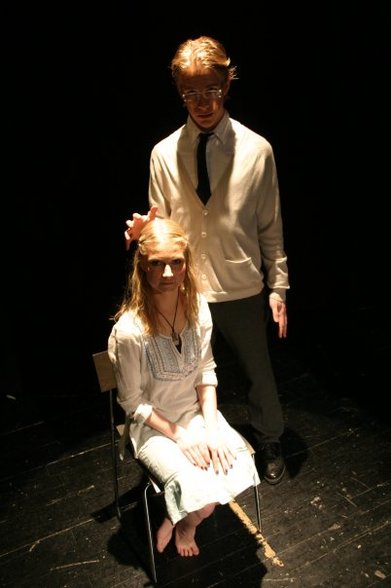 THEATER. Literally "Where the Rails Lead", this two-hour drama took a year to write, and another to rehearse and perform. It remains the key to my "career" as a writer, and also as a director (although in this regard I played second fiddle to Frida Sjögren), and the reason why I turned back to creating experiences.

Dit Spåren Går follows docu-drama participant Mana during the final week of the ominously Doomsday-themed TV show. She learns that everything she has been doing on the show, including the start of a new relationship, has been strictly controlled and directed by a megalomanic author by the name of Pierre. During the final week she fights to break free from this percieved opression, working with and against a host of other participants - the most notable of which is Stuart, a cold-blooded artist of manipulation to rival Pierre himself.

That's me in the picture, playing the part of Pierre. To this day I consider him the best character I have written, and certainly the best I have portrayed myself, and I frequently borrow my favorite parts of him into other characters I write.

---

METAL GEAR SOLID ON STAGE (2006)

THEATER. The first time I led a proper project, I tried to adapt Hideo Kojima's masterpiece to the stage. Since most of the actual gameplay could be cut without the audience even noticing, our version was all about the cutscenes and the characters - we even managed to cut the actual Metal Gear! Providing more exposure to Sniper Wolf and Psycho Mantis, we decided to cut both Ocelot, Raven and Octopus. I myself put on my best swedish David Hayter voice (ending up more like Mikael Persbrandt) and played the part of Solid Snake.


It was an endlessly instructive project, teaching me most of what I know about project management. Also, the project report somehow ended up as one of the best stories I've written!


EVERGAME (2002-2006)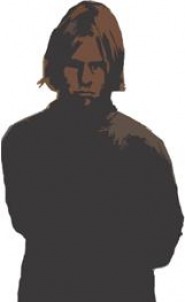 WRITING. At one point in my life, I decided that it was madness to try to be a game developer or an author, and decided that a much more manageable future lay in journalism. Preferably game journalism of course. And so, I spent a majority of my teenage years working as an editor on Evergame and dreaming of the ultimate game review.

Evergame was originally launched under the name Nintendo Party on December 1 of 2002, and was immediately picked apart by the internet for looking too much like the then-dominant swedish Nintendo fansite, Nintendo-On.Net. We let that get to us, and spent the next four years coding a site that would look like none other. And like all projects without a proper deadline, Evergame became a Nevergame.

During the Evergame years I wrote hundreds of never-published reviews, previews and columns, and edited hundreds more. I became an expert at judging the creative power behind a text, and more than a little obsessed with the beauty of words. Since then I have decided that the meaning behind the words is endlessly more important than the words themselves, rendering most of my texts from this era downright creepy.


---
DREAM PROJECTS
REMEMBER ROSALIE

GAME. Me and the Working Parts spent half a year prototyping this slow-moving, physics-based ghost story set on the Swedish west coast. Now it's in hibernation. Really hope it will be completed sometime.

---
PROJECT BRAIN FUDGE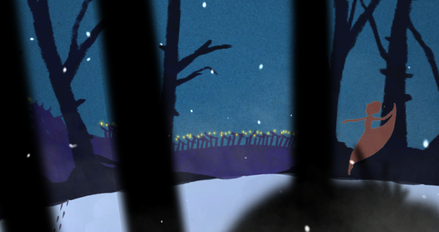 GAME. The game which is as of yet known only by the name "Brain Fudge" is the brainchild of me and one of my dearest friends, the illustrator and animator Lili Ibrahim. The game depicts the ordeals of a young woman on a quest to make sense of her boyfriend, and is set inside the cryptic rooms of his mind. We strive to approach the subject of love and relationships in a more complex and mature way than is common in games, and convey much of the plot through what I like to call EnvironMental Storytelling.

I'm doing the bulk of game and world design while coding the game in Unity, and Lili handles all the art and animation. My amazing composer brother Joel Bille returns to work on the score and sound.


---
PROJECT KOHOLINT
WRITING. Several threads of my life converged to the point where I found myself writing another stageplay. Koholint is based on the events of the 1993 Game Boy Zelda adventure Link's Awakening, building on its overlooked surrealist atmosphere and moral dilemma. There is a finished script, but it's not particularly good yet and I've put off the rewrites to focus on other projects. I hope to get back to it soon.
THE SPACE MEDLEY
MUSIC. I've been playing piano by ear for maybe twenty years now, but it was only after recently picking up the guitar that I started to feel like really creating something. I guess I need some kind of art that doesn't pressure me to perform, and now that I have the guitar, that sort of frees my piano talent up. So I've taken to writing a medley of game songs old and new, that all convey the endless possibilities of space adventuring. From things like Super Mario Galaxy, Zone of the Enders, Final Fantasy IV... I hope it will be the first of many!